Shaw Blackmon Campaign Announcement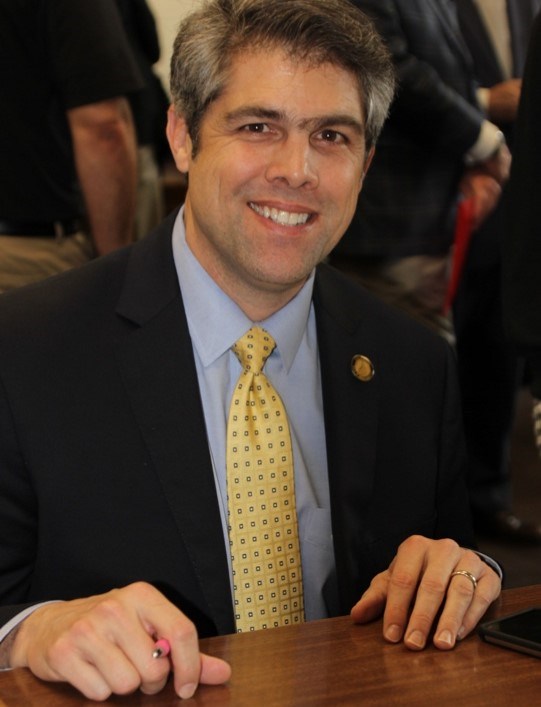 "There's more work to do!" Shaw Blackmon Launches Reelection Campaign Highlights strong track record of advocating for education, small business, new and existing industry, and facilitating support for and expansion of Robins Air Force Base.
Representative Shaw Blackmon announced his reelection campaign for House District 146, which is comprised of Houston County.
"I'm honored to serve the citizens of Houston County, and I humbly ask for your support as I continue working tirelessly to support our County and our standing as a strong defense community," said Blackmon.
As a small business owner, Blackmon has worked hard to aid the business community by removing obstacles, passing business-friendly legislation, and tackling burdensome regulations, ensuring our state remains the "Top State to do Business"1 as it has been for the past eight years. Last year, he was recognized as "Legislator of the Year"2 by the Georgia Chamber of
Commerce. This prestigious recognition is given to legislators who focus their legislative efforts on "enacting policies that promote economic development and job creation throughout the state."
"The Covid-19 pandemic created great hardships for our business community," said Blackmon. "I have made it a top priority to find reprieve for those businesses through income tax relief and blocking of burdensome regulations to protect Georgia as a strong right-to-work state."
Blackmon currently chairs the Ways and Means Committee and worked closely with Speaker Ralston to introduce a momentous proposal that would lower the state's income tax rate from 5.75% to 5.25% – saving Georgia taxpaying citizens roughly $1 billion a year and providing much-needed tax relief. It is currently pending in the Senate.3
Blackman has been a strong advocate for all levels of education in the state. As a member of the Technical College System of Georgia State Board, he has worked to provide our state with a more seamless approach to education by improving transferability between the technical colleges and the University system, as well as, enhancing dual-enrollment opportunities with the Department of Education.
In addition to chairing the Ways and Means committee, Blackmon serves on numerous other committees including:
House Appropriations Committee
Houston County Development Authority
Perry Area and Robins Regional Chambers (Chair for Robins in 2012)
House Economic Development and Tourism Committee
Governmental Affairs Committee
Insurance Committee
Juvenile Justice Committee
MARTOC Committee
House Rules Committee
Small Business Development Committee
Special Rules Committee
Ways and Means Committee, Chair
Metropolitan Atlanta Rapid Transit Overview Committee (MARTOC)
Blackmon also serves as an appointed member of the Governor's Joint Defense Commission. In this critical role, he serves as a voice for Robins Air Force Base and our eight other defense installations in the state. He has been instrumental in supporting the transition from JSTARS (Joint Surveillance Target Attack Radar System) to four new follow-on missions, including the Advanced Battle Management System (ABMS) at Robins Air Force Base.4 He has also voted in support of more than 30 military-friendly bills during his tenure – making Georgia one of the most military-friendly states in the union.
He has sponsored or cosponsored legislation to help our military families, expand rural broadband, reduce taxes, and lighten the burden for all Georgians.
About Shaw Blackmon
Shaw Blackmon was raised in Houston County and following graduation from Warner Robins High School, attended the University of Georgia where he completed his degree in Management Information Systems. Upon moving back to Houston County, Shaw began working in sales for National Bank Products, a small family business founded by the Blackmon family – eventually becoming President and CEO. Through continued outreach, Shaw continues to be heavily involved in the effort to bring investment back to Houston County. This includes funding for the VECTR (Veterans Education Career Transition Resource) Center and the Health Science Facility on the primary campus of Central Georgia Technical College. Shaw resides in Warner Robins with his wife, Whitney, and sons Cort, Beckett, and Ges. They are members of Central Baptist Church in Warner Robins.
CONTACT: Shaw Blackmon
Phone number: 404-656-5103
Email: shaw.blackmon@house.ga.gov
Website: shawblackmon.com
2: GA Chamber 2021 Legislators of the Year
4: New Missions Robins Air Force Base